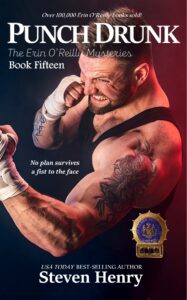 Punch Drunk
The Erin O'Reilly Mysteries, Book Fifteen
Steven Henry


As long as you're breathing, you're still in the fight


Erin O'Reilly has been walking a dangerous line. In order to save her lover, smooth-talking gangster and former bomb-maker Morton Carlyle, she's been pretending to be a dirty cop. Her efforts have worked well—too well. Evan O'Malley and his underlings are convinced Erin is a criminal just like them. But that means, by the unwritten code of the underworld, she's now fair game.
The O'Malley family is a tinderbox of hatred, resentment, and ambition. When a botched car bombing fails to kill O'Malley enforcer Mickey Connor, the blast sets the whole thing ablaze. The fearsome ex-boxer is sure Erin and her boyfriend are to blame, and he's not the kind of man to just take a punch. He hits back—hard.
A serious error in judgment puts Erin's family on the line, pulling her loved ones into the ring. With more than one life hanging in the balance, Erin and her K-9 Rolf will need every bit of strength, skill, and courage to face down their deadliest opponent in a fight without rules or referee, where the winner will be the one left standing.
Books In This Series
The Erin O'Reilly Mysteries
Meet the Author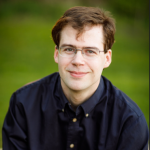 Steven Henry
Steven Henry is the USA Today bestselling author of Ember of Dreams and the Erin O'Reilly mysteries. He lives a very quiet and ordinary life in Minnesota with his wife and dog.
More about Steven